Welcome to The Golden Throats Wiki
We are currently editing over 3,473 articles and 10,445 files.
Ever wondered which stars of the Silver Screen can belt out a ballad and which are left with a bum note? Well, wonder no longer!
This wiki is intended to catalogue the singing successes (and failings) of various actors and actresses as they sing in films, on stage and even when releasing CDs of their own.
Happy viewing (and editing)!
AmmandtheCorsair (talk) 09:44, January 18, 2015 (UTC)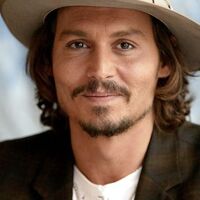 Johnny Depp is an American actor.
Biography
Born in Owensboro, Kentucky, Depp began as a guitarist (a skill he would demonstrate on the soundtrack of several of his later films) and was encouraged to become an actor by Nicolas Cage, having his first major role in A Nightmare on Elm Street. His success in the television series 21 Jump Street led to him becoming a teen idol.
In 1990, Depp appeared in Edward Scissorhands as the titular character, beginning a long association with Tim Burton, which he had become best known. He also became known for playing Captain Jack Sparrow in the Pirates of the Caribbean series, one of three actors to have appeared in all four films.
Whilst best known for his roles in off-beat, unusual productions, he has been twice nominated for the Academy Award for Best Actor.
(
Read more...
)
Archive
Latest Activity