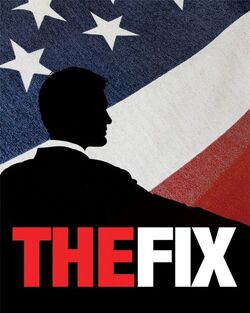 The Fix is a political stage musical.
Cast
Plot
Days before a United States presidential election, shoo-in candidate Reed Chandler suffers a fatal coronary between the thighs of his mistress. Before the body has turned cold, the dead man's widow, Violet, and brother, Grahame (a speechwriter and spin doctor crippled from birth by polio and jealous of his brother's public success) - not keen to see their patience and preparation go to waste - are conspiring to replace him with his own son, an unambitious drifter, Calvin. Cal is enlisted in the army and married off to a perky debutante before developing a hard drug problem and being photographed during sex with his mistress, a nightclub singer named Tina McCoy.
To cover up Cal's indiscretion, Grahame is forced to call upon the services of the city's criminal underworld, headed by Anthony Gliardi, who we are told is a "friend of the family". The years pass; Cal is elected governor and his wife bears a son. The list of favours owed to Gliardi grows longer, Cal's addiction deepens and Grahame's legs finally give way and he is condemned to life in a wheelchair. After a drying out period, Cal rediscovers his sense of self. He confronts the press, coming clean about his misgivings and the Chandler's relationship with Gliardi. Cal becomes the media darling once again, however on the eve of the United States Senate nominations, Gliardi uses Tina to lure Cal away from his family, then shoots them both. The play comes full circle as at Cal's funeral, Violet and Grahame move in on Cal's young son. And suddenly the future doesn't look so dim after all.
Musical numbers
Act I
"Advocate/Architect" – Ensemble
"The Funeral" – Company
"One, Two, Three" – Cal, Ensemble
"Embrace Tomorrow" – Violet, Grahame, Bobby
"Army Chant/Control" – Reed, Cal
"America's Son" – Cal, Violet, Grahame, Leslie, Supporters, Newscaster
"I See The Future" – Cal
"Lonely is a Two-Way Street" – Tina
"Simple Words" – Cal, Grahame, Reporters
"Alleluia/Flash, Pop, Sizzle!" – Tina
"Sense out of Insanity" – Grahame
"Dangerous Games" – Gliardi, Frankie, Ensemble
Act II
"Two Guys at Harvard" – Grahame, Reed, Violet, Ensemble
"First Came Mercy" – Grahame, Ensemble
"Bend the Spoon/One, Two, Three (reprise)" – Tina, Cal
"Cleaning House" – Violet, Peter
"Upper Hand" – Cal, Grahame
"Spin" – Violet
"The Ballad of Bobby "Cracker" Barrel" – Bobby, Ensemble
"Child's Play" – Cal
"Simple Words (reprise)" – Cal, Ensemble
"Lion Hunts the Tiger" – Ensemble
"Mistress of Deception" – Tina, Ensemble
"Finale" – Company
Community content is available under
CC-BY-SA
unless otherwise noted.