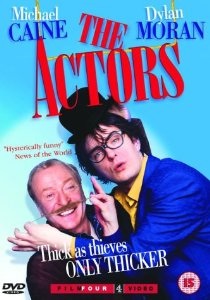 The Actors is a 2003 crime comedy about a respected actor who has fallen on hard times, and his struggling companion , who plan to con two crime bosses out of a large sum of money.
Cast
Singing Cast
Non-singing Cast
Plot
Tom Quirke, a struggling Dublin actor, is starring in a modern dress, Fascist themed production of Richard III with faded theatre veteran Anthony O'Malley. O'Malley has been talking to local rogues to gain experience for his role and has developed a plan to earn a fortune - Tom must pretend to be a courier from a London based mob to whom a significant amount of money is owed by Barreller, a local hood. Tom is initially reluctant, but after his flat burns down, he accepts, enlisting the help of his niece Mary and adopting the persona of Clive, a Cockney chancer based on his brother in law.
Tom meets Barreller and collects the money, but suspects that the crime boss isn't quite the villain O'Malley suspected he was. He also meets Barreller's daughter Dolores, and a mutual attraction develops.
Soon, the real courier, a flustered Scotsman named Jock, arrives, demanding the money owed. However, having discovered this in advance, Tom goes to the airport disguised as Barreller and sends Jock on a wild goose chase to find "Clive", before adopting the role of Jock and meeting with Barreller himself.
Mary decides that "Clive" has to be eliminated, and a plan is concocted to stage his death at a local castle. However, Dolores shows up and confesses her feelings for him, and the scheme is changed so that he is merely wounded. By this stage however, Dolores (whose father had exaggerated tales of his notoriety) feels betrayed and leaves to find O'Malley, who she has grown fond of, while Tom must evade the returned, and furious, Jock.
Finally, Mrs Magnani, head of the London mob, arrives in person. Tom refuses to take part in any further scheme and O'Malley goes in drag to meet her, acting as Barreller's associate. He is rumbled, and under threat of torture blames Tom for the whole affair, telling Magnani that he will be at the performance that night.
At the performance, Tom performs catastrophically, distracted by the presence of Dolores, who has learnt the truth and has forgiven him. Seeing his poor acting, Magnani assumes that Tom could not possibly have conned them all and congratulates O'Malley on a magnificent performance, before having him soundly beaten.
Some time later, O'Malley (in a wheelchair) collects an award for Best Actor, whilst Dolores has entered the trade herself, featuring in a sausage advert Tom auditioned for at the beginning of the film.
Musical Numbers
Could This Be Love? - Tom and Dolores