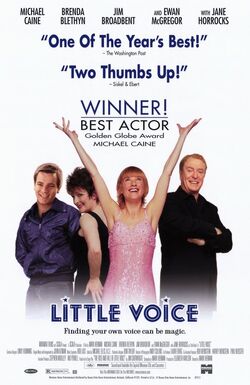 This is about the film. For the stage play on which it is based, see The Rise and Fall of Little Voice.
Little Voice is a 1998 film based on Jim Cartwright's play The Rise and Fall of Little Voice.
Cast
Singing cast
Non-singing cast
Plot
Laura Hoff, who lives in a working-class home in Scarborough, is known as LV for her shyness. She flees reality by mimicking voices like Édith Piaf's, Judy Garland's, and Shirley Bassey's; her love of songs is her only source of strength. Her mother Mari, a profligate woman with countless affairs, jilts a man when her passion wanes.
Billy, an installer who mends their phone, approaches LV by sending her pamphlets. Things improve when Mari is seeing Ray: He hears the girl sing, spots her gift and vows to make her a star, while Mari, who dislikes singing, still doubts her child. When LV is to sing at a nightclub, she visions her father to help perform well.
Ray's futile attempts to goad LV dash him. Mari, who still scorns her child, prods her against her will. When wrongly accused of arson, LV responds by blaming Mari for her father's death and her meek nature with her domineering attitude.
Mari is left by everyone; Ray is facing his debt-collectors, and LV is saved by Billy.
Musical numbers
"Somewhere Over the Rainbow" - L.V.
"First Medley - Lover Man, Chicago, Happy Birthday" - L.V.
"The White Cliffs of Dover" - Ray Say
"Second Medley - Hey Big Spender, I Wanna Be Loved By You, Falling in Love Again, Sing As We Go, Get Happy" - L.V.
"It's Over" - Ray Say and Mr. Boo
Community content is available under
CC-BY-SA
unless otherwise noted.