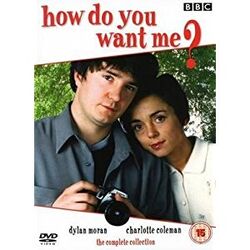 How Do You Want Me? is a British comedy drama which aired from 1998 to 1999.
Cast
Singing cast (regular)
Singing cast (recurring/guest)
Non-singing cast
Plot
Ian Lyons has recently eloped with country girl Lisa Yardley. At the show's start, after a year living in London they move to the village of Snowle, where her intimidating father breeds turkeys. He and most of Lisa's family take a dislike to Ian, and much of the comedy comes from how Ian copes with life with her family and village life in general. Life is also complicated by Lisa's ex-boyfriend Derek, who still loves her.
The series' title is a reference to the trade Ian takes up within the village, buying the business of the local photographer despite having no formal training in photography (he had previously managed a comedy club in London). Photography plays an important part within the stories; the beginning of series one shows Ian and Lisa outside a country church having wedding photos taken; this is then shown to be a staged event arranged by Lisa's family due to their unhappiness at them eloping and marrying abroad prior to the series starting. Ian first realises the extent of the family's hatred for him when he witnesses Lisa's mother cutting him out of the wedding pictures at the end of the first episode. Further episodes also have photography playing a key role, including an episode where nude photos of Lisa get circulated around the village after her brother and his friends discover them. Another episode sees Lisa's sister approach Ian for a photo shoot, and her disappointment when he is unable to photograph her looking glamorous and beautiful. There is a running joke throughout the series of Ian wanting to make a book of photographs of country fire stations in Britain.
Episodes
Monstrous
"We Hate Penfold" - Dean and the Team
The Hidden World of Country Fire Stations
"Summer Holiday" - Dean and the Firemen
Community content is available under
CC-BY-SA
unless otherwise noted.