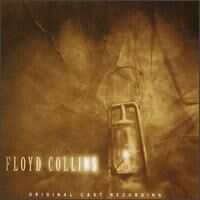 Floyd Collins is a stage musical.
Cast
Plot
Floyd Collins, exploring Sand Cave, uses the echoes of his voice to sound out the region, and falls through a tight passageway when his foot became trapped, wedged in position by a small rock. His family and his fellow cavers try to free him; when it becomes clear that his rescue will not be easy, his brother Homer spends the night in the cave with him. William Burke "Skeets" Miller, a small man, is able to squeeze through and visit with Floyd, relaying stories which were printed in the news. Despite efforts by miners, the National Guard and the Red Cross, attempts at rescue fail, and the crowd grows outside the cave as a media circus ensues.
Seventeen days after Floyd had entered the cave, a shaft finally reaches him. He had died three days earlier.
Musical numbers
Act I
"Ballad of Floyd Collins" - Company
"The Call" - Floyd
"It Moves" - Floyd
"Time to Go" - Floyd
"Lucky – Nellie and Miss Jane
"'Tween a Rock An' a Hard Place" – Family and locals
"Daybreak" – Homer and Floyd
"Ballad of Floyd Collins" (Reprise) - Jewell
"I Landed on Him" – Skeets Miller
"And She'd Have Blue Eyes" - Floyd
"Heart An' Hand" - Miss Jane and Lee
"Riddle Song" – Homer and Floyd
Act II
"Is That Remarkable?" – Reporters and Company
"Carnival" – Floyd and Company
"Through the Mountain" - Nellie
"Git Comfortable" - Homer
"Ballad of Floyd Collins" (2nd Reprise) - Jewell
"The Dream" - Floyd, Nellie, Homer and company
"How Glory Goes" - Floyd
Clear}}
Community content is available under
CC-BY-SA
unless otherwise noted.