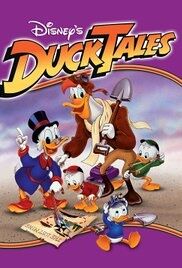 DuckTales is an animated television series that aired from 1987 to 1990.
Cast
Singing cast (regular)
Singing cast (recurring/guest)
Non-singing cast
Hal Smith - Various Roles
Joan Gerber - Various Roles
June Foray - Magica DeSpell/Ma Beagle
Ed Gilbert - Warden
Plot
The show features the adventures of Scrooge McDuck and his great-nephews. The nephews, who were originally living with their uncle Donald, are left in Scrooge's care when Donald joins the U.S. Navy. Though Scrooge is the richest duck in the world, he constantly tries to find ways to increase his wealth.
Musical numbers
Series One
Treasures of the Golden Sun: Don't Give Up the Farm
"Scrooge McDuck He Had a Farm" - Scrooge
Treasures of the Golden Sun: Cold Duck
"Row, Row, Row Your Boat" - Launchpad
Nothing to Fear
"For He's a Fuddy Old Geezer" - Huey, Dewey and Louie
Spies in Their Eyes
"Hi-Diddle-Dee-Dee (A Sailor's Life for Me)" - Donald
Dime Enough For Luck
"Luck Be a Lady" - Gladstone
Top Duck
"Rock-a-bye Baby" - Bankjob, Bebop and Babyface
The Golden Fleecing
"My Favourite Things" - Ludwig
Ducks of the West
"Home on the Range" - Huey, Dewey and Louie
Sphinx for the Memories
"Row, Row, Row Your Boat" - Donald
Earth Quack
"For He's a Jolly Good Roller" - Cast
Series Two
Beaglemania
"Boogie Beagle Blues" - Bigtime, Burger, Baggy and Bouncer
Community content is available under
CC-BY-SA
unless otherwise noted.