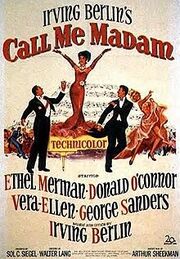 This is about the film. For the musical on which it is based see Call Me Madam (musical).
Call Me Madam is an adaptation of the musical of the same name.
Cast
Singing cast
Non-singing cast
Plot
Washington appoints small-minded social butterfly Sally Adams as a U.S. Ambassador. When Adams arrives in Lichtenburg, her bright personality charms everyone she meets. However, she slips her political obligations aside to focus on a budding romance with Cosmo Constantine, the country's foreign minister -- and at the same time, her attaché pursues a relationship with the princess.
Musical numbers
"The Hostess with the Mostest" - Sally
"Lichtenberg" - Chorus
"Can You Use Any Money Today?" - Sally
"Marrying for Love" - Cosmo
"It's a Lovely Day Today" - Kenneth and Princess Maria
"That International Rag" - Sally
"You're Just in Love" - Sally and Kenneth
"The Ocarina" - Princess Maria and Chorus
"What Chance Have I With Love?" - Kenneth
"Something To Dance About" - Kenneth and Princess Maria
"The Best Thing for You Would Be Me" - Sally and Cosmo
"You're Just in Love (reprise)" - Sally and Kenneth
"Mrs. Sally Adams" - Telephone Operators
"You're Just in Love/Something to Dance About (finale)" - Sally, Cosmo, Kenneth and Princess Maria