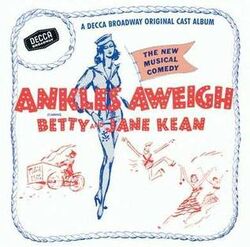 Ankles Aweigh is a stage musical.
Cast
Plot
A Hollywood starlet, Wynne, is in Sicily with her sister Elsey to film her movie debut in a low-budget musical. She falls in love with U.S. Navy lieutenant Bill Kelley. The two secretly marry, violating a clause in her contract. With the aid of her sister and two of her husband's service buddies, Dinky and Spud, Wynne disguises herself as a sailor and stows away on Bill's ship, the U.S.S. Alamo, so that they can slip away for a honeymoon. When they reach Morocco, they run into Bill's jealous Moroccan ex-girlfriend, Lucia, who is now the mistress of the leader of an espionage ring. As revenge, Lucia implicates him as a spy. With the help of her sister and his buddies, Wynne and Bill eventually find a way to absolve him of the charges, he becomes a hero, and they live happily ever after.
Musical numbers
Act I
"Italy" – Chorus
"Old-Fashioned Mothes" – Elsey and Wynne
"Skip the Build-Up" – Elsey
"Nothing at All" – Wynne and Bill
"Skip the Build-up" (reprise) – Dinky
"Walk Like a Sailor" – Wynne, Dinky, Spud, Girl, Elsey and Dancers
"Headin' for the Bottom" – Chipolata, Girls and Patrons of night spot
"Nothing Can Replace a Man" – Wynne and Boys
"Here's to Dear Old Us" – Elsey, Dinky and Spud
"His and Hers" – Wynne and Bill
"La Festa" – Chorus
Act II
"Ready Cash" – Chorus
"Kiss Me and Kill Me with Love" – Wynne and Bill
"Honeymoon" – Elsey and Girls
"The Villain Always Gets It" – Chorus
"The Code" – Joe's Henchmen
"Walk Like a Sailor" (reprise) – Chorus
"Eleven O'Clock Song" – Elsey and Wynne
"Finale" – Company
Community content is available under
CC-BY-SA
unless otherwise noted.