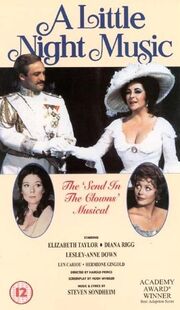 This is about the film. For the musical see A Little Night Music (musical).
A Little Night Music is a film adaptation of Stephen Sondheim's film of the same name. It features several new pieces of music as well as cast members from the original production.
Cast
Singing cast
Non-singing cast
Plot
Fredrik Egerman is very happy in his marriage to an 18-year-old virgin, Anne. However, Anne has nervously protected her virginity for the whole eleven months of marriage, and being a bit restless, Fredrik goes to see an old flame, the famous actress, Desirée Armfeldt.
Desirée, who is getting tired of her life, is thinking of settling down, and sets her sights on Fredrik, despite his marriage, and her own married lover Count Carl-Magnus Mittelheim. She gets her mother to invite the Egermans to her country estate for the weekend. But when Carl-Magnus and his wife, Charlotte, appear, too, things begin to get farcical, and the night must smile for the third time before all the lovers are united.
Musical numbers
"Love Takes Time" - Chorus
"Now/Soon/Later" - Fredrik, Erich and Anne
"This Glamorous Life" - Fredericka
"You Must Meet My Wife" - Fredrik and Desiree
"Every Day a Little Death" - Charlotte and Anne
"A Weekend In The Country" - Petra, Anne, Fredrik, Charlotte, Carl-Magnus, Erich and Madame Armfeldt
"It Would Have Been Wonderful" - Carl-Magnus and Fredrik
"Send in the Clowns" - Desiree
"Finale" - Desiree and Fredrik
Community content is available under
CC-BY-SA
unless otherwise noted.